Listen to the Episode Below (00:52:58)
Listen to the Episode Below
Podcast: Play in new window | Download | Embed
Subscribe: Android | RSS | More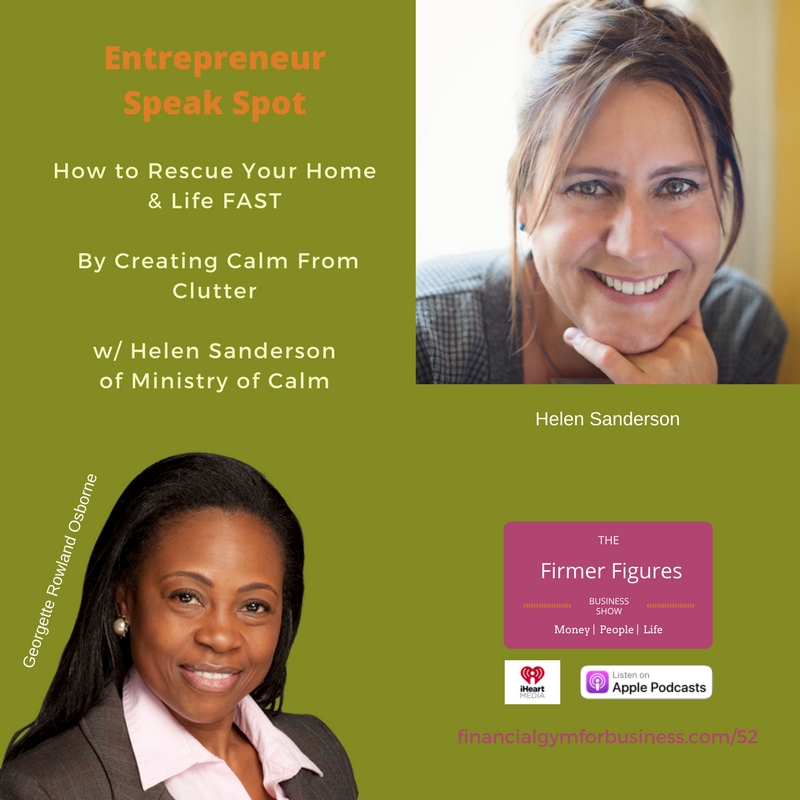 Helen Sanderson is an interior designer, professional organizer and founder of Ministry of Calm.
An expert on how our living spaces affect our wellbeing, she speaks regularly at events such as Ideal Home, Grand Designs Live and 100% Design.
Her work takes her all over the capital, supporting people to clear their clutter, be more organised and efficient, and free up time and energy to focus on what really matters to them.
With her training in psychotherapy she's an expert at dealing with clients' individual mindsets and situations, not just their clutter. Her premium and bespoke decluttering service supports people to let things go, whilst keeping their precious memories intact.
Helen has recently published her Home Declutter Kit that reveals the secrets of a simple six step process that will help you transform your home and clear clutter from your life – fast.
It is time to introduce the Organised and Calming Helen Sanderson
You will also hear
How Helen turned an inability to work for anyone and a need to clear her own clutter into a business
How surrounding yourself with clutter or continually tidying up can be a way to avoid facing your life and emotions
The effects of consuming, such as shopping to fill an emotional void
How embarrassment about their environment has stopped people as social as they want to be
The steps to declutter and organise your home to create emotional, mental and physical space
Techniques and tips you can use today
And much more
Disclaimer
This show, or any resources mentioned, is not a substitute for obtaining proper financial and or legal advice from a qualified professional who is familiar with your specific situation. Also be aware that the information contained may not be suitable for every person or organisation.
Guest Links
The Home Declutter Kit: The Mindful Method to a Stress Free Home
Connect with me at http://facebook.com/groups/firmerfigures
FFS34:Emotional Stress – The Staggering Financial & Human Costs of Stress w/ Mary Wingo, PhD
B9:Why Successful Leaders Need Coaching & Why You May Never be an Author w/ Mindy Gibbins-Klein of The Thoughtful Leader