Listen to the Episode Below (00:45:41)
Listen to the Episode Below
Podcast: Play in new window | Download | Embed
Subscribe: Android | RSS | More
Scroll down for video version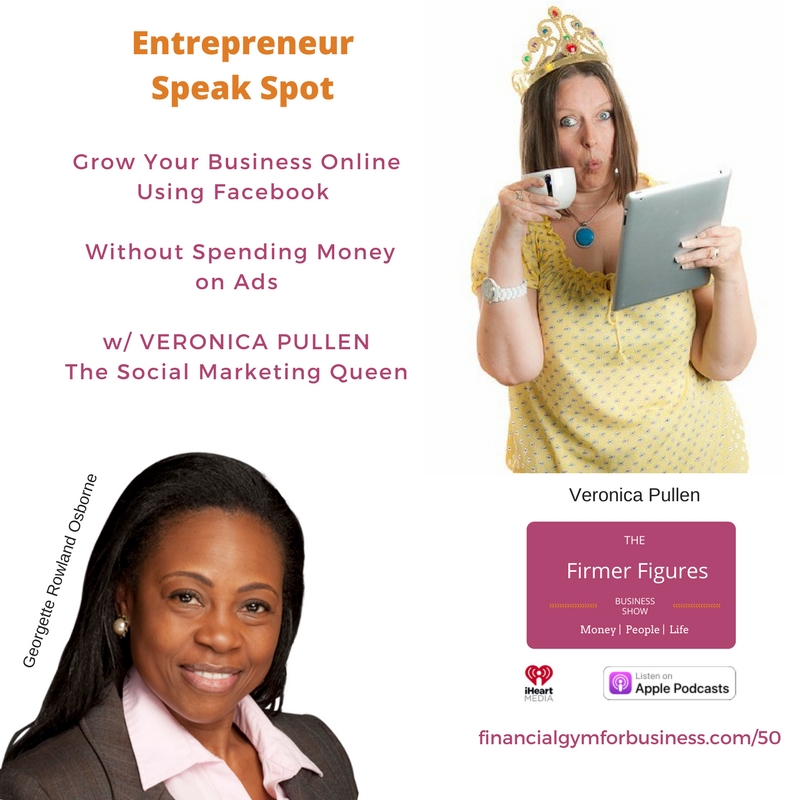 How does a partially deaf, divorced, former bankrupted bookkeeper with rheumatoid arthritis become a sought after, go to person for creating a presence and a profitable business online? So much so, she was voted Small Business Coach of the Year.
My guest today helps coaches, trainers, consultants and service providers to stand out from the crowd and enrol their dream clients from Facebook.
She is an author with a collection of books and eBooks on Amazon and her site – "Social Prospecting for Twitter" and "The 15 Minute Guide to Info Product Creation" are but two of them.
So even though she concentrates primarily on Facebook, her knowledge of Social Media marketing is quite phenomenal.
If you want to "Turn your passion into profit and build a leveraged, online expert business that you promote on Facebook and can run from anywhere your heart takes you."
Then she is the answer to your prayers.
Can't wait to learn from this lady, please welcome The Social Marketing Queen herself, the unforgettable Veronica Pullen.
You will also hear
Why knowing who you are and owning it is crucial
The power of being a Facebook group member instead of running a group
How being diagnosed with rheumatoid arthritis changed the course of her business and her life
How she sabotaged her own business because she hated it so much
The lead up to having to file for bankruptcy
How she dragged herself back to health after a year and then almost made the same mistakes all over again with her next business model.
How her lack of mobility was the catalyst to being more social online and the beginning of her ideal business
What her ideal online business looks like now, and how she did it.
How after killing it on Twitter, she successfully transferred her marketing skills to Facebook.
How Facebook generates 100% of her income
It is still possible to get business on Facebook organically
How to close the gap between being social on Facebook and doing business
Why she does not believe it is necessary to start free/public Facebook Groups
How to contribute to a group without spamming. Her "empty bucket" technique
The key reason to use Facebook Ads versus Google Ads, and it's nothing to do with cost.
 JOIN OUR COMMUNITY
A safe judgement free place to share and support each other's financial struggles & successes.
As well being able to ask questions directly, you will get tips, training, resources and tools to help you deal with how your money affects your business, your freedom and your relationships.
Click the link below so you can be added to the group  Facebook Group:    https://www.facebook.com/groups/firmerfigures
CLICK TO TWEET 
Guest Links
https://www.facebook.com/veronicampullen
http://veronicapullen.co.uk/free-online-visibility-checklist/
Show Links & Resources
Get your Free Build a Buffer of Personal Money Checklist
How to Rate & Review a Podcast in iTunes
FFS007: Anthony Charles – From his last £10 to £10,000 in a few months
FFS48-How to Build a High Performing 6 or 7 Figure Business w Marianne Page