Listen to the Episode Below (00:51:43)
Listen to the Episode Below
Podcast: Play in new window | Download | Embed
Subscribe: Android | RSS | More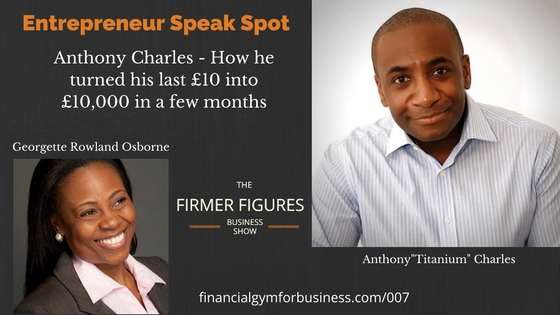 Today my Entrepreneur Speak Spot guest is Anthony "Titanium" Charles who talks very honestly and openly about his business failures and successes. As someone who did very well in Network Marketing, He runs two businesses based on that model so that aspiring entrepreneurs would have a way of making money while they got their own businesses off the ground.
He tells how friends on more than one occasion let him down, one almost cost him everything. Listen to his story of having a family to support and debts to pay, and risking his last £10 so he could meet the man he believed would change his life.
It is a testament to those who have found success, but still take the time to look behind them and give back.
You will also hear
How a speech at his place of work by pioneering entrepreneur John Bird of the Big Issue was the light bulb moment when he knew exactly what his purpose was and what business he needed to create
How his wife suddenly got cold feet when the reality of the project set in
How he got a millionaire mentor when he was flat broke
Tips for staying focused when you want to quit
His take on whether everyone is cut out to work for themselves
The number one reason people fail or leave network/referral marketing
And much more
Guest Links
http://choicesmagazine.co.uk/
https://uk.linkedin.com/in/anthonycharlestitanium
https://twitter.com/anthonytitanium
Show Links & Resources
Ron Holland – The Entrepreneur's Entrepreneur
Download your 5 Tools to Freedom
How to Rate & Review a Podcast in iTunes
http://serialpodcast.org/how-to-listen (This is brilliantly done)
Subscribe to
Firmer Figures Business Show | Grow Your Money| Get a Life!
Or subscribe with your favorite app by using the address below