Listen to the Episode Below (01:00:55)
Listen to the Episode Below
Podcast: Play in new window | Download | Embed
Subscribe: Android | RSS | More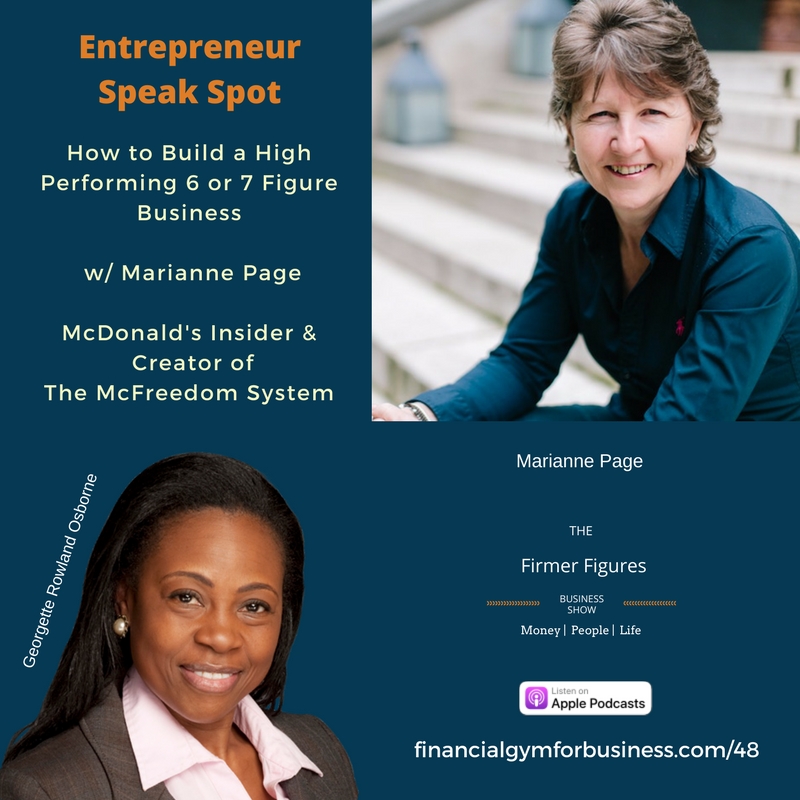 How to Build a High Performing 6 or 7 Figure Business w Marianne Page – The McFreedom System™
My guest today works with ambitious 6 and 7 figure business owners who are victims of their own, often rapid success, and who are unable to extricate themselves from working in their business, in order to work ON it. Her book Process to Profit is widely regarded as more informative than The E-Myth Revisited
Marianne Page has 27 years of senior management experience with McDonald's. Over an 8 year period she worked closely with more than 14,000 managers and franchisees to develop their management and leadership skills and through her focus on continuous improvement and system development, saved the business over £1m in her final year.
She has a reputation for being inspiring and fun-loving, and for taking an area of business that most business owners are terrified of, or resentful of at best, and turning it into something which is easy, enjoyable, and actually gets done.
If you want to start deliberately working on your business instead of being stuck in it, Marianne has some actionable strategies for you.
You will also hear
Despite being able to spot and create millions for businesses, even she has one blind spot.
Her time as a pivotal member of McDonald's management team, why she stayed for 27 years, and what made her finally leave
The lowdown of McDonald's hierarchy.
How people development is the key to stable staff retention.
How the belief that McDonald's staff are transient is false.
The drivers behind replacing yourself in your business
How she had to sell processes without selling processes
The dangers of growing first and then systemising
Some simple steps to start, creating basic systems in your business
How recording tools create freedom in your business
Why even one-man bands should start systemising
How service businesses can improve even if they subcontract or outsource
Introducing systems to staff & team members & the importance of Why over How.
What it means to create a Checking In versus a Checking Up team culture
The pitfalls of avoiding people management if you are trying to grow
Keeping up with change in a process driven business
The one task everyone should do to move their business towards their ideal future.
The link between systems and being able to franchise
And much more
Disclaimer
This show, or any resources mentioned, is not a substitute for obtaining proper financial and or legal advice from a qualified professional who is familiar with your specific situation. Also be aware that the information contained may not be suitable for every person or organisation.
Guest Links
Marianne's website:  http://bright7.co.uk/
Twitter :  @MariannePage07
Marianne's book:   Process to Profit
Show Links & Resources
Download your 5 Tools to Freedom
https://financialgymforbusiness.com/b9-why-successful-leaders-need-coaching-why-you-may-never-be-an-author-w-mindy-gibbins-klein-of-the-thoughtful-leader/