Listen to the Episode Below (00:54:28)
Listen to the Episode Below
Podcast: Play in new window | Download | Embed
Subscribe: Android | RSS | More
Today's Entrerpeneurs Speak Spot guest expert is a Learning and Skills Specialist, Debt Adviser and Financial Success Coach, who has spent 12 years helping people understand how their money mind-set determines their financial success.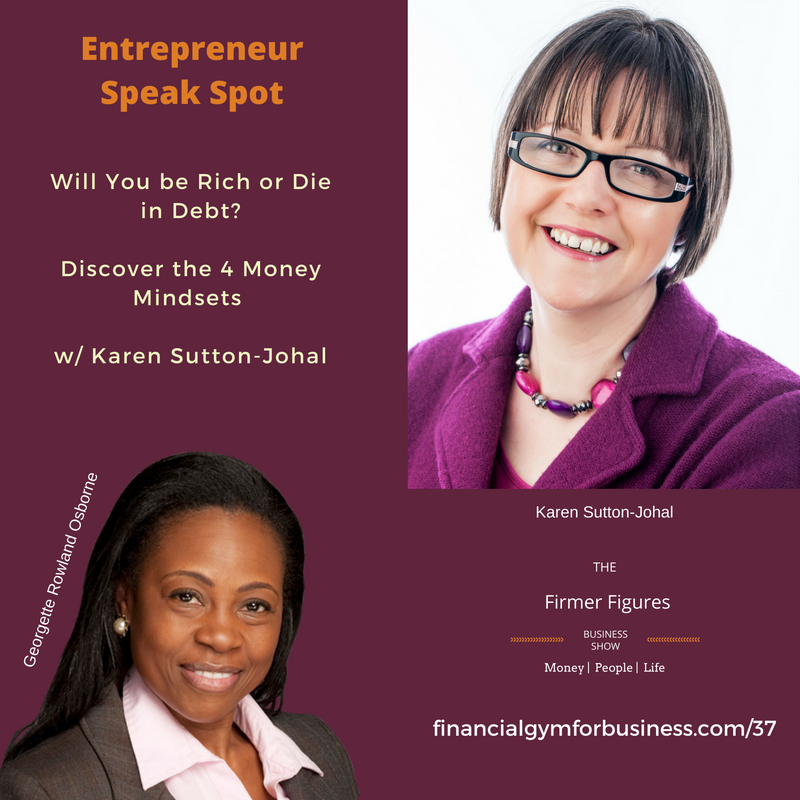 Her fascination with financial success was sparked when, as a child her father's business collapsed.
Her work as a debt adviser led her to discover 'The 4 Money Mindsets' which I looking forward to learning more about during the show.
In her years of experience she discovered that whichever of these you have, will determine your level of financial success.
Building a successful business with her husband Jo, resulted in them becoming financially free in 2012 and contributed hugely to her understanding of how to develop a rich money mindset.
They run Personal and Business Money Mindshift workshops and individual coaching which transforms clients' finances.
Her book 'The 4 Money Mindsets' is a # 1 Amazon UK Money Book
It is with great pleasure I introduce my sister from another mother Karen Sutton-Johal
You will also hear
What she thinks about the late Gene Wilder and entrepreneur Daniel Priestley and which one she had a crush on
How her childhood changed from living in relative wealth to penniless and five in a bedroom
How we both vowed to do things differently to our mothers and failed – at first
How she made a great living doing what her mother found degrading
How at 40 she left her stockbroker husband, her home and  corporate career and moved to another part of the country to make a fresh start
How she and her husband have combined property with helping disaffected men over forty.
How debt is actually a repetitive trait
The 2 fundamental questions that determine your money mindset
Whether you can transition from one mind set to another successfully
She fires me up so much that I go off on one of my rants
Disclaimer
This show, or any resources mentioned, is not a substitute for obtaining proper financial and or legal advice from a qualified professional who is familiar with your specific situation. Also be aware that the information contained may not be suitable for every person or organisation.

Guest Links
http://www.the4moneymindsets.com/
Show Links & Resources
Darren Shirlaw – The Value of Intellectual Property (video)