Listen to the Episode Below (00:57:19)
Listen to the Episode Below
Podcast: Play in new window | Download | Embed
Subscribe: Android | RSS | More
Today we are going to hear about the innovative relationship model by Nobel Peace Prize advisor, relationship and divorce counsellor Dr Deborah Hecker. She is also the author of the book
Blindsided after eighteen years of marriage; a woman's journey from co-dependency to all-round achiever.
She discusses ways to develop your own individual identity while simultaneously & successfully integrating your identity into your partnerships. Plus, she talks about how not to be a victim in your relationship or business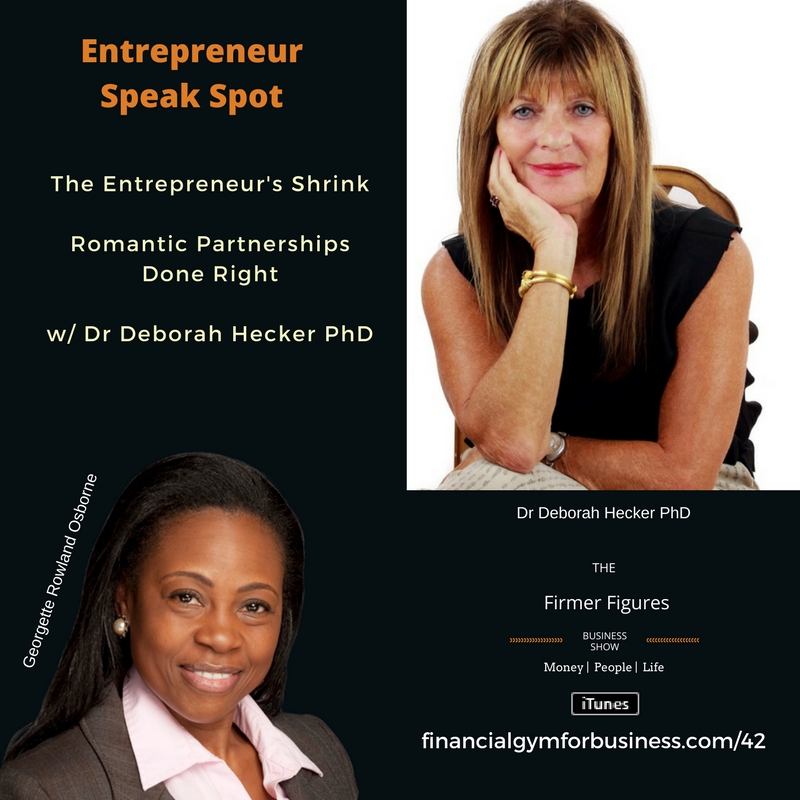 You will also hear
Why despite her lack of experience, this lady knew she would make an excellent therapist
How the technological age has redefined relationships for achievers
The worrying consequences of the huge overlap between your business and personal life
How three in the bed has become normal in many entrepreneurial relationships (you, your partner, ipad)
The constant hustle is admired, but is it unnecessary hype
Have relationships have lost their value, particularly for many high achievers?
Nobody is building a relationship to lose their partner's love, but they still do.
Research that shows the importance of a significant other on the well-being and success of a business man or woman
Tips on setting the boundaries to preserve intimate relationships
How when to keep working and when to stop is really a choice and a matter of control
What is behind the trend of middle-aged female entrepreneurs dumping their spouses in favour of work and friends
Why do so many women thrive better after a relationship breakdown?
Online dating and the increase in disposable relationships
The immense advantage on having your own identity before entering a relationship and how relying on your partner is
The triggers that force people to seek relationship help and advice
The importance of understanding your EQ versus your IQ and why it matters for success in entrepreneurship and relationships in general
Disclaimer
This show, or any resources mentioned, is not a substitute for obtaining proper financial and or legal advice from a qualified professional who is familiar with your specific situation. Also be aware that the information contained may not be suitable for every person or organisation.
Guest Links   
https://www.facebook.com/drdeborahhecker
The Book – Torn Between Two Loves – How Entrepreneurs Can Successfully Commit to Both Business & Significant Others
Show Links & Resources
Get your Free Build a Buffer of Personal Money Checklist
How to Rate & Review a Podcast in iTunes
FFS004:What to do if Your Spouse Doesn't Support Your Business – Mini Bonus Episode